This is Isaac, the son of one of my friends growing up: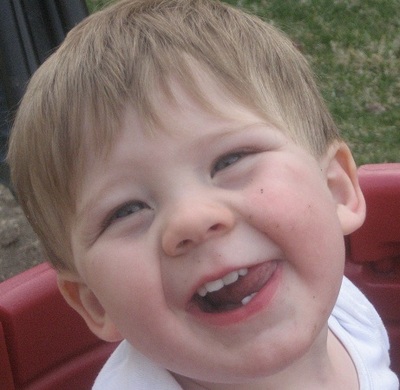 Fun-loving, young Isaac
It was May 10th, just a few weeks ago. 21-month-old Isaac was put to bed with a really high temperature.
By the next morning, Isaac had been rushed to the hospital. An unfortunate diagnosis was made early in the day, and it was some form of leukemia.
Isaac in the hospital
He was eventually diagnosed with Acute Lymphoblastic Leukemia (ALL). This is the most common form of childhood cancer. It is treatable, but requires steroids, and many blood transfusions, and chemotherapy.
I've kept up with most of the events as they progressed. I know how devastating this has been to their whole family, both financially, and more importantly, emotionally.
Steroid-inflated Isaac & his mom, Jessica
Jessica set up a golf scramble to help raise money and to create a place where you can offer your best wishes and support. The facebook link for this event is
here
.
Since I'm almost 2,000 miles away from their family and the golf scramble, I convinced Jessica to set up a donation page, which can be found
here
.
I, of all people, understand that times are tough right now. However, even the smallest donations add up, and I assure you that their family wouldn't be able to express the amount of gratitude for your generosity. If nothing else, there are links to share these events on Facebook and Twitter. Helping potential donors find out about these events is as good as donating yourself.
Thank you all for your help and anything you can do for Isaac and his family in their time of need.
~RoB